Mr Ashok, one of our esteemed reader had posted a query in Ask Techrena section of our blog. His query was:



sir,
there is a problem in my laptop. is it does not hide the inactive icon. i can use the control panel and go to task bar option and apply the hide inactive icon but window does not hide the icon's. my laptop configuration is:
2GB ram
160 hard disk
processor core 2 duo
window XP
We have found the solution and posted in our blog.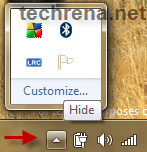 The inactive icon tray may not show up sometimes in spite of enabling hiding from the taskbar properties. If such a problem occurs then we have to enable it from he windows registry. A registry named EnableAutoTray is to be created and set the value.
The complete solution has been described in the post below:
The solution works for Windows XP, Vista and Windows 7.

We sincerely thank Mr Ashok for asking for solutions and request all our blog readers to support techrena and not to hesitate to post their queries.