Mr Karanam, one of our privileged reader had asked a query in Ask Techrena section of our blog. His question was:






Dear Techrena,
I want to transfer my current gmail contacts to another gmail account. I don't know how to do this. It is difficult to transfer all the contacts manually. If there is any method to transfer the contacts please help me with it.

Thanking you in Advance.

Karanam Sreekanth
We have found the solution and have posted in our blog.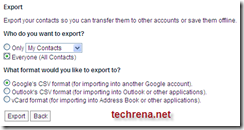 It is an easy process. Gmail has made it very easy for users to transfer or export contacts from one Gmail account to another Gmail account. You have to just save the contacts as CSV format or vCard format and import the contacts using the other account.
The complete solution is given in the post below:
We really appreciate our readers supporting us and posting queries. Please do support techrena and Help us providing you valuable solutions.