Note:
Cross posted from
TECHRENA dot Net
.
Permalink
BSNL has today officially launched the much talked
Prepaid Broadband
for the customers in Andhra Pradesh (At present the service is not yet available in Hyderabad Telecom District though).
The advertisement in newspapers today reads:
"Now you have the power to control the broadband bill.Pre-decide your usage, speed and validity by a recharge voucher of your choice ranging from Rs.50/- to Rs.5000 /- for the limited usage plans and Rs.300/- to rs.1200 /- for the unlimited usage plans.
Top up vouchers: Rs.100/- to Rs.500/-
Validity Vouchers: Rs.100/- to Rs.250/-
Initial Charges    : Rs. 1000/-  for Type-I modem and Rs.1600/- for Type-II modem.
Customer service numbers for further queries:
1800-424-1600 (Toll Free)
1500 (Toll Free from any BSNL phone).
Ad (I could get only Telugu version):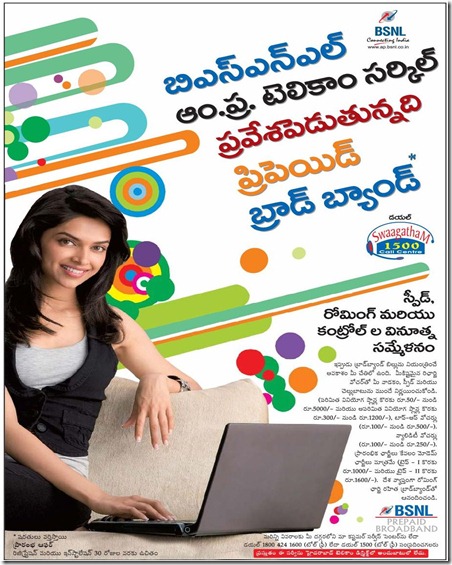 Registration and Installation is free for 30 days from today, so hurry up.
would like to hear your opinions about this new service.
Note:
Cross posted from
TECHRENA dot Net
.
Permalink